Top Tools and Equipment Your Kitchen Staff Needs to Optimize Food Safety
March 28, 2023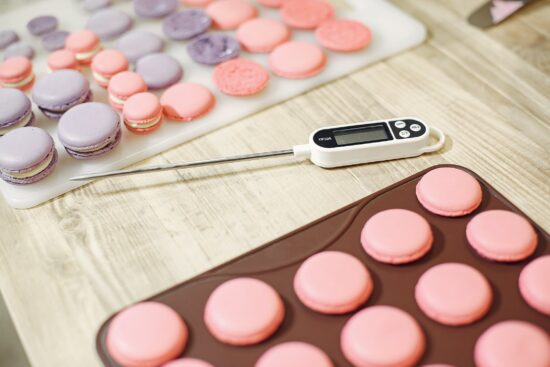 Food safety, food allergies and food preparation are all more important than ever before. Culture has become germ-conscious in a whole new way, and that shows in the way we treat our groceries and produce.
But in a commercial kitchen, all that food prep is hidden away. That's why making and maintaining a reputation for exactitude and quality is crucial in your kitchen and services becoming as popular as they deserve to be.
Let's go through the major categories and see what suits your kitchen best. For certification and more tips, look no further than Certified On The Fly, our low-cost, fast-working online program that can have you food safety trained within hours.
Food Thermometers
Food thermometers come in many types. Some stay in the food during cooking, some are instant-read, while the probe-and-cord type are a mixture of the two.
Learn to read a thermometer quickly and you can shave minutes off your prep time. Knowing the proper temperature to heat every kind of food you cook is another mandatory skill you can learn from Certified On The Fly.
A refrigeration thermometer in both the refrigerator and freezer are necessary to ensure proper freezing and refrigeration temperatures. Your freezer should be at least at 0℉, if not lower, while your refrigerator should be somewhere between 32-38℉.
Cutting Board Safety Tips
Cross-contamination occurs when foods of different types come into contact. Use different cutting boards for your meat, fruits, vegetables and other foods, and scrub them down with hot soapy water every time you use one.
You can sanitize cutting boards with a mixture of 1 tsp. household bleach to 4 cups of water, and remember to store your cutting boards only when they are clean and fully dry.
Color-Code, Label, and Date
Starting with the cutting boards, it may prove useful to color-code. Poultry, meats and fish can share one in a red shade, while fruits and veggies get a green cutting board, and so on. But you don't have to limit it to the cutting boards.
Color-coded knives will keep their edge better if they're only used for dedicated tasks, and colored pans could even be used to indicate the heat of what's inside.
And of course, properly labeling and date marking foods helps identify when they are no longer safe for consumption.
Knife Sharpener
A dull knife can be the most dangerous thing in a kitchen. A knife not sharp enough to filet a steak is probably still sharp enough to filet a worker, and besides, using dull knives will only slow you down, which can cause even more mistakes. Simply put, never use a dull knife in the kitchen. Keeping a sharpener handy will make it easier to remember to keep your blades sharp on a regular basis. Many restaurants, hotels, grocery stores, and other establishments use knife sharpening services.
Kitchen Timers
Use timers to ensure you're checking on things in a timely way, to make sure you put food away when it's cooled, and to protect yourself and your guests from unsafe foods. How long does food have to be left out before perishables are defined as unsafe? 2 hours. Half that, if the ambient temperature is over 90℉.
Stay Safe with Certified On The Fly
These are the top tools and equipment your restaurant's kitchen needs to run safely. A great deal of knowledge and training goes into running a successful kitchen, and it's important to know you've got your bases covered.
Certification isn't just another hoop to jump through: your training is what stands between you and danger, and protects your guests as well. But that doesn't mean it's got to be a corny drag. Certified On The Fly is an engaging, low-cost, fast-finish online food certification program for getting your Texas food handler certification.  Register online today!
Back to Blog