Avoiding the Curdle: Top Dairy Storage Safety Tips
March 27, 2018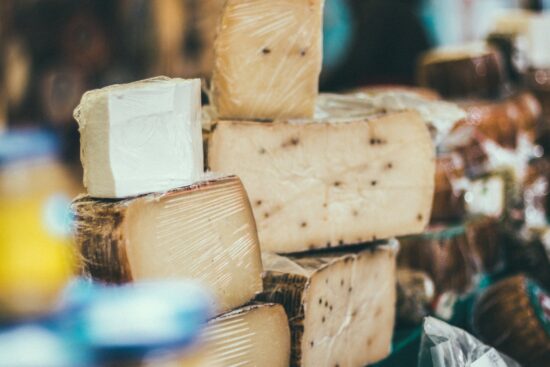 Whether you're an owner, manager, or employee in the food service industry, it's important to practice proper food safety procedures, like food storage. Dairy is a huge part of that. From milk to cottage cheese, there are specific ways that dairy products need to be stored for them to be consumed safely.
Top Dairy Storage Safety Tips
1. Check the Date
When you purchase dairy products, make sure to pay attention to the "Sell By" and "Use By" dates on the labels.  If you don't plan on using the actual product by the "Use By" date, don't buy the product.
2. Be Selective of Your Cartons and Jugs
The container that your milk comes in is actually very important to its shelf life. If your milk is stored in a translucent container, this means that the product is susceptible to excess light exposure.
This exposure means that your milk may spoil at a faster rate and cost you more money, depending on how much milk you use and how quickly you use it.
3. Keep It Refrigerated
In order to follow food safety precautions, always store your dairy products in the refrigerator at 40 degrees Fahrenheit or below. Store products like cheese, milk, and yogurt immediately upon delivery. Also, never store your milk in the refrigerator door. In this area it is open to warmer temperatures due to the door's constant opening and closing. This is dairy storage 101.
4. Know What to Freeze and Not Freeze
Many people think that good dairy storage involves freezing it to keep food "good" for a long period of time. This is not the case with most dairy products. In fact, aside from ice cream, there is little that can be safely stored in a freezer to be served at a later date. As a rule of thumb, if it isn't ice cream, don't freeze it.
Earn Your Texas Food Handlers Card from the Comfort of Your Home
Don't let spoiled milk ruin your budget or your ability to safely operate in the food service industry. Certified On The Fly allows you to get your Texas Food Handlers Card and even bundle it with a TABC certification if you need.
The process is simple with Certified On The Fly. Our online Texas Food Handler Certification Course is licensed and accredited by the state of Texas, fast, and simple. Sign up for our course and find out how simple it is to get your food industry career started today.
Back to Blog