Getting Your Texas Food Handler Certificate: Top 3 Obstacles & How To Deal
February 3, 2020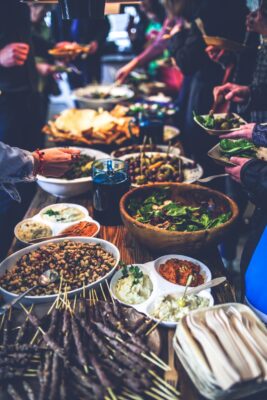 Time
Have a few uninterrupted hours to watch training material? No? What if it's really important training material? Now do you have a few uninterrupted hours? Still no?
No one would deny that having your Food Handler certificate matters. Your training affects the health and safety of every person you serve. As important as it is, it's still tough to work it into your schedule.
That's why you can complete our online Texas Food Handler course at your own pace. If one block of time is best for you, great. If you need it in small doses, also great. You can view it all at once, or when you have snippets of time here and there. Anytime you walk away from the course, it will be waiting for you when you're ready to come back, exactly where you left off. So feel free to knock some of it out while waiting in line at the post office or during your work break.
In fact, it's because your Food Handler certificate is so important that Certified On The Fly makes it entirely self-paced. We want you to be able to view the material in a way that makes you most likely to actually learn it, and that means doing it at the times and in the way that works best for you.
What if you've been in food service for decades and could recite all the material in your sleep? We understand. Certified On The Fly provides all the material required by DSHS, but you can complete it at your own pace. There's no arbitrary timer you have to wait out. Once you've finished viewing the material, you're done.
Take as long or as short as you need. Do as much or as little in one sitting as you need. Certified On The Fly is just what it sounds like, we're here whenever you're ready, for however long you have.
Money
Sometimes, $9.99 is nothing. Sometimes, $9.99 is everything. We've all been there. At Certified On The Fly, we do everything we can to make our course as affordable as possible. $9.99 was our price when we first opened our doors, and it remains our price to this day. And, your 2-year certification is immediately available when you finish the course, with additional copies always available on your account.
Unfortunately, we can't make the course free. But we get as close as we can.
Imposing Dread
We get that the Food Hander's course *might* not be something you're looking forward to. We get that it might be more in the category of something you'll procrastinate as long as possible because you dread it so much. Hopefully, being able to do it small doses and at your own pace goes a long way toward making it better.
Maybe it's the horrible boredom you're dreading. It's a serious topic, and we don't promise stand-up comedy, but we do try to minimize the boredom as much as possible.
Is it the prospect of having to pass a test that you're dreading? The great news about Certified On The Fly is that there is no test. We try to make the material as straightforward as possible, and we include periodic repetition of key concepts. Our goal is for you to learn the material and finish your certificate as efficiently as possible, and we've created our course with that in mind. And no worries or pressure about any test!
We know you face obstacles getting your Texas Food Handler Certificate done. We created this course to provide the best option in dealing with those obstacles. Made by servers, for servers, Certified On The Fly is your best bet for making Food Handler certification as painless as possible.
Certified On The Fly has you covered. Our course is self-paced, $9.99, and doesn't have a test. Sign up today!
Certified On The Fly is one of the largest providers of online Texas Food Handler training and certification, licensed and accredited by the Texas Department of State Health Services (DSHS).
Back to Blog